Let us host your special events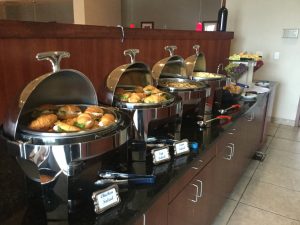 Saba's Bistro in Maumee, Ohio is the perfect place for your special event! Located just a short drive from Toledo, Saba's has the perfect space for any special occasion that you have in mind. From small get togethers, to family reunions, our menu and customer-first service will have you coming back for all of your special events in the future. Read below for just a few special occasions that we can make memorable for you and your guests!
Rehearsal dinners
Getting married soon and are in search of space and delicious food for you and your wedding party? Look no further than Saba's. We can host your rehearsal dinner and give you memories that will last a lifetime. Located inside of the Holiday Inn in Maumee, your wedding guests can simply stay at the hotel and be right at the location of your rehearsal dinner. We also have food for everyone, including pub style appetizers, pizza, salad, pasta, steak and more! Simply contact us so that we can create the perfect rehearsal dinner menu that meets your needs.
Wakes
When the unfortunate happens and there's a death of a close one, there shouldn't be any worry about a place for family and friends to get together and recount memories. Saba's Bistro can take the stress away by providing event space and food so that you can focus on your loved ones.
Family Reunions
Family reunions are a great way to get together with those who may live far away or you simply don't see as much as you'd like. Whether you have a small family, or you have several relatives coming in from out of town, let Saba's take care of your event space and all of the food and beverages that you need. All you need to do is sit back and rehash old memories, laugh at the jokes and make new memories with your family. Conveniently located inside the Holiday Inn in Maumee, your out of town relatives also have a great and convenient place to stay!
Class Reunions
If you're trying to organize an upcoming class reunion, consider Saba's Bistro for your event space and catering needs. Whether it's a 5 year, 10 year, 20 year, or even 50 year class reunion, our staff will make your evening memorable by providing top notch service and delicious food that you'll be talking about until your next reunion! You don't even have to worry about where those from out of town will stay since we're located right inside of the Holiday Inn.
Baby Showers
Baby showers are joyous and momentous events. There are few things in life more special than getting ready to welcome a new baby into the world. Saba's Bistro provides the perfect event space for baby showers big and small. All the mother-to-be needs to do is sit back and relax while spending time with family and friends – we'll handle the rest!
Bridal Showers
Wedding planning can be stressful, and t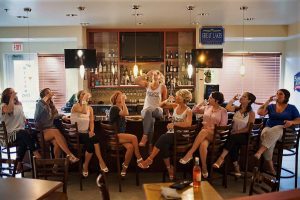 hat includes the planning of the bridal shower. If you're in charge of this happy event, get in touch with us to see how we can easily make your bridal shower stress free, fun and an all around great time! With our wide selection of menu items and a great event space, look no further for the perfect bridal shower location.
Bachelor Parties and Bachelorette Parties
Another event that centers around an upcoming marriage is bachelor and bachelorette parties. We have a well-stocked bar and a range of delicious food that will easily please you and your wedding party. From appetizers to fine dining selections, treat your wedding party while you enjoy yourself in our event space. Your wedding events should be stress free and fun – leave the planning up to us for your bachelor or bachelorette party.
Saba's Bistro proudly provides special event space and dining services in Maumee, Ohio. Regardless of your special event, contact us today to let us know what you have in mind and one of our special event staff with work with you to create the perfect get together!